The intuitive user interface of PeriData
The program PeriData resembles a browser:
On the left, there is the series window which shows all examinations in an overview.
The colored display allows you to recognize already the larger defects and the rough course.
In the main window, a single examination is displayed in detail. The choice of this examination is made by mouse click in the series window.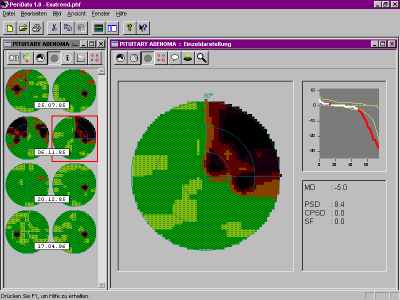 Display options
Using the buttons at the top of each window, you can change between different types of displays. There are numerous options:
Threshold values
Grayscale display
Probability maps
Defect depth
Color defefect map
Cumulative defect curve
Global indices
3-D hill-of vision ...and many more
Combinations
Instead of an individual examination you also can view a left and right visual field.
Progression
However, the most important option is the progression analysis of PeriData. The complete visual field series of each eye can be viewed as a box plot or several types of pointwise trend analysis.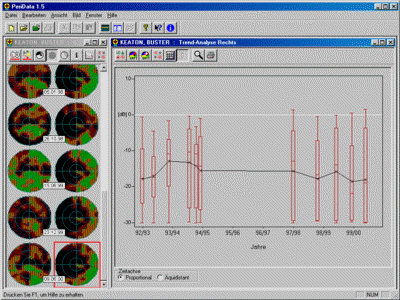 Intellitext
There is also the Intellitext report explaining the result of the progression analysis in an easy-to-read text.