PeriData solves your problems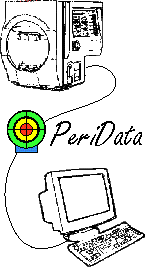 You are working in an
Eye Clinic
or
Private Eyecare Office
? Then you will be fascinated how quick and easy you can manage your
Visual Field Data
using PeriData.
Different Perimeters?
No problem for PeriData. Enjoy the full integration with your
EMR
Software. With a click you switch from the medical record to the perimetric data. All fields are shown:
Right and Left
, the entire
Series
. And the
Progression Analysis
will detect every significant trend.
>>> learn more about PeriData
Help function now available with Win10
The help function that did not function under Win10 is now available in a new way. Install the interim version 3.6.3 >>> download page
17 € per month
This is the incredible license fee for a small office with 1 to 2 doctors and 1 perimeter. For this money you get the complete PeriData Service: Unlimited on all computers, continuous updates and telephone support free of charge. >>> the current price list
HFA 3 connected
The new Humphrey Field Analyzer 3 by Carl Zeiss Meditec is connected to PeriData. The transfer protocol is based on the new DICOM format and transfers via network. By our continuous support of different perimeter types, data can be collected now over 25 years (HFA1, HFA2 and HFA3). The same is possible for Octopus. >>> all connected perimeters
EMR software integration widens
During the last year, another 4 EMR software companys have chosen PeriData as standard interface to all kinds of perimeters. By this integration, even more ophthalmolgists have the possibility access the visual field data directly from the EMR software and use the full range of graphical and statistical field analysis of PeriData. >>> EMR software companies
These instruments are compatible: